Cladding pieces for kitchen surfaces, marble, granite, limestone.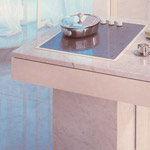 Cladding pieces for kitchen surfaces out of marble, granite or limestone. Lusostone supplies floor tiles, pavings, worktops and wall claddings. The material is pre-selected at its source and only then is cut to size . Pavings, claddings and surfaces are installed at works before they get shipped to our clients . We assure you good quality products at competitive prices.
---
Display per page

Kitchen paving, worktops and cladding in a white polished carrara marble . All our materials are cut to size in order to fit any kitchen .
---