Tiles for kitchen pavings and claddings , marble , granite or limestone.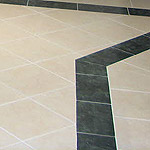 Our raw materials are pre selected in the quarries and only then are produced in accordance to our clients specifications. All the pavings and claddings are installed at works before these are sent out to our clients.
---
Display per page

Paving tiles in a polished belgian black marble. Sizes of the tiles are 60x60x2 cm and are cladding all area in the kitchen floor .
---